Custom packaging boxes and custom paper bags manufacturer from china










⇦Select your language



Home - Other packaging solutions - PVC Shrink Wrap
Shrink Wrap: The Differences Between PVC, Polyolefin, And Polyethylene
The three main wraps used in shrink packaging material for protecting and securing products for the retail and shipping environments are polyvinyl chloride (PVC), polyethylene (PE), and polyolefin (POF). Each have different capabilities and characteristics that make them suitable for specific applications.
What are the main differences between these types of shrink wrap? Which is the best choice for your packaging needs? Read on to find out!

Each of these three wraps can be co-extruded into multilayer wraps with different additives offering specific barrier properties required for shelf-life or appearance. Shrink wraps can be formed into flattened rollstock, bags, overwrap, banding and tubing, and add a form of tamper-resistant protection to packaged goods. If you aren't sure that you are using the ideal wrap for your application, here's a breakdown of the three: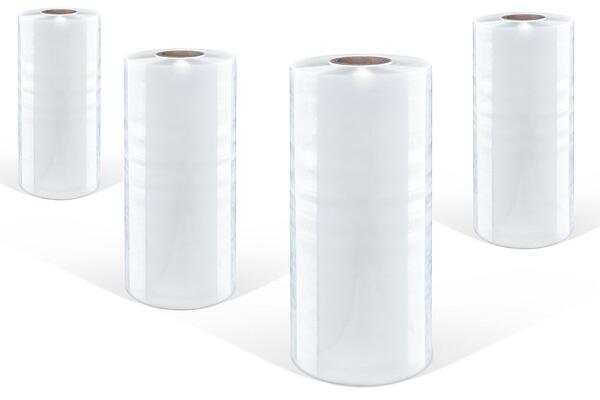 rolls of shrink film
PVC Shrink Wrap
Once the most commonly-used shrink packaging material in the world due to its light-weight and inexpensive multi-purpose capabilities, PVC Shrink wrap has since taken a backseat to PE and POF for many reasons. Most specifically due to the dangers in health during creation and incineration, and sustainability.
In its rigid form, PVC is durable and is used in many applications, including construction projects and houseware products. In terms of packaging, PVC is seen in rigid applications including blister and clamshell packaging, & flexible applications including shrink wrap, bagging. Polyvinyl chloride is a combination of three elements, carbon, hydrogen, and chlorine.
It is recommended for use in well-ventilated facilities due to the strong, harmful odors that are released when heated. Due to its chemical composition and these harmful byproducts released during its creation, and decomposition for that matter, PVC has been banned in many countries.
Brands that hold high regard to corporate & social responsibility have been joining these countries in banning PVC in packaging. This is important to consider if you have toyed with the idea of using it in your packaging, and more-so if you already are using it. The Walmart Sustainability Playbook specifically targets PVC reduction in packaging materials for the manufacturers of products sold in their stores.


Tel:0086 136 0091 3508
Email us to get a price quote
Email:sales@bagboxpackaging.com
Our Products

Paper boxes
Paper bags
Other packaging solutions